Portable Water Chiller | 7.5 tons | Water-Cooled Unit
CG-7.5W
Click Here for An Immediate Factory Pricing Quote For the CG-7.5W ▶
Pricing Is Now On Display
Product Overview
Portable chillers use mechanical refrigeration to cool recirculated fluids that support industrial process cooling applications.
Portable chillers include an internal pumping system and reservoir system.
Portable chillers can be moved between use points as needed.
Water-Cooled chillers use plant water supplies to dissipate the heat from the refrigeration system.
Price is Loading
Specifications
Model: CG-7.5W

(1)

Unit Cooling Capacity

(2)

Tons : 7.6
kW : 26.7
Compressor
HP : 7.5
Quantity : 1
Type : Scroll
Condenser
Type : Water-Cooled

(3)

City : 14 GPM

(4)

Tower : 28 GPM
Refrigerant
Type : R-410A
Process Pump
HP : 2
GPM : 19
PSI : 48
Type : Centrifugal
Construction : Stainless Steel
Reservoir
Capacity : 25 Gallons
Auto Make Up : Standard
Process Connections
To Process : 1-1/4"
From Process : 1-1/4"
Water Make-Up : 1/2"
Condenser Supply : 1"
Condenser Drain : 1"
Full Load Amperage

(5)

230/3/60 : 40.0
460/3/60 : 20.0
575/3/60 : 16.0
Dimensions
Height : 40"
Width : 34"
Depth : 56"
Weight

(6)

Shipping : 740 LBS
Specification Notes:
Since product innovation and improvement is our constant goal, all features and specifications are subject to change without notice or liability. Selection of certain optional features may change listed specifications.
Tons capacity at 12,000 BTU/ton per hour @ 50°F LWT @ 105°F condensing temperature. Capacities may be +/- 5% as reserved by the compressor manufacturer. Operating at temperatures below 50° will reduce chiller capacity. The minimum recommended operating temperature when no glycol is used is 48°F.
City water requirements based on 60°F water supply at 20 PSI differential with a clean condenser.
Tower water requirements based on 85°F water supply at 20 PSI differential with a clean condenser.
Full load amps are higher than run load amps and must be used for sizing disconnects and supply wiring.
Approximate unit weight crated for shipment.
See Product Warranty Statement W-700 for details on warranty.
Features
Refrigerant Circuit
R-410A refrigerant
Non-ozone depleting
Low global warming impact
Scroll compressor
Microprocessor controlled 50% hot gas by-pass capacity control system
Suction service valve
Discharge service valve
Tube-In-Tube water-cooled condenser
Regulator valve
Brazed plaste evaporator
Stainless steel plates
Copper brazing material
Refrigerant sight glass with moisture indicator
Filter-drier
Thermostatic expansion valve
Liquid line solenoid valve
Electrical
Nema 1 control cabinet
Process pump motor starter
Branch Circuit Fusing
Compressor contactor
Power entry terminal block
Pressure Gauges
Pressure is shown on the MG instrument display
Refrigerant head
Refrigerant low
Coolant
Coolant Circuit
High flow centrifugal pump
Internal Reservoir
Insulated
Non-ferrous polyethylene construction
Reservoir lid is standard on this model
Reservoir level sight glass
Standard NPT process fittings
System Limit Devices
High refrigerant pressure
Low refrigerant pressure
Process pump motor overload
Frame Construction
Powder coated steel upright frame
Glavanized steel cross frame
Powder coated steel cabinetry
Lift-off side panels
Castors - for portability
Designed for indoor installation
Warranty
1 year covering parts and labor
Free preventative maintenance check in the 2nd year.
Warranty Document
Options
Electrical
UL508A Enclosed Electrical Panel
Emergency Stop Button
Alarms
Audible Alarm
Beacon Alarm
Control Instrument
MRC-1 Remote Located Control System
MRC-1 with Audible & Visual Alarms
Communications Upgrade : Modbus TCP
Coolant Circuit
Overhead Piping Kit
Reverse Flow Circuit
Process Line Shut Off Valves
Pump Upgrade to 3 HP
Automatic Low Flow Bypass
Warranty
4 year extended : 7.5 ton compressor (parts only)
Control Instrument
CG Series
Graphic LCD display with Intuitive Navigation
Digital refrigerant pressure display
Digital water pressure display
Plain language error message reporting
Controls hot gas bypass or digital scroll compressor for Capacity Control
Alarm output with audible signal
Industry 4.0 ready with Modbus RTU or SPI communication included, Modbus TCP communication optional
High water temperature shut down feature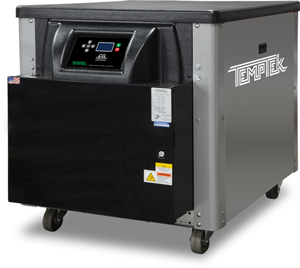 Model CG-7.5W shown. Image shown is typical. Actual unit appearance will vary according specifications and options.